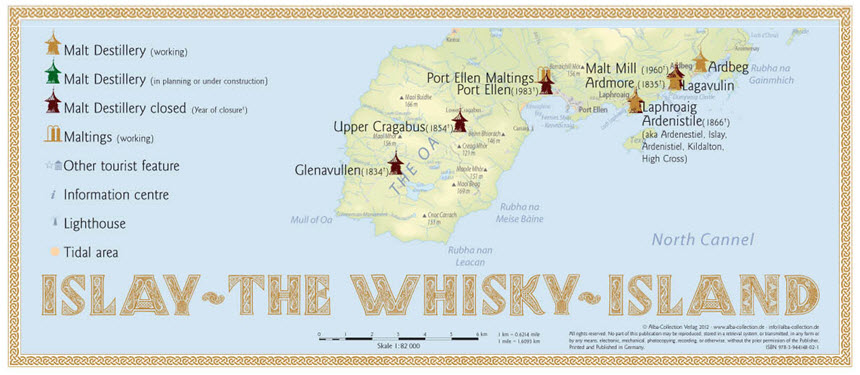 The Eight Distilleries of The Isle of Islay
Ardbeg Distillery | /ɑrdˈbɛɡ/ ard-BEG | small headland | Founded 1815
Ardbeg produces a heavily peated Islay whisky. The distillery uses malted barley sourced from the maltings in Port Ellen.
Bowmore Distillery | /boʊˈmɔr/ boh-MOR | great sea reef or sea rock | Founded 1779
Bowmore is the first recorded distillery on Islay and one of the oldest in the whole of Scotland. Islay malts are renowned for their peaty smokiness and Bowmore is no exception.
Bruichladdich Distillery | /brʊkˈlædi/ bruuk-LA-dee | bank on the shore | Founded 1881
The distillery produces mainly single malt Scotch whisky, but has also offered artisanal gin

Bunnahabhain Distillery | /ˌbuːnəˈhævən/BOO-nə-HA-vən | mouth of the river | Founded 1881
This gentle malt has always begun with good quality malted barley, clean, pure Margadale spring water and a little yeast.
Caol Ila Distillery | /kʊlˈaɪlə/ kuul-EE-lə | The Sound of Islay | Founded 1846
Caol Ila is Islay's giant, producing more than double the spirit of the other distilleries on the island. Purpose built to produce over 7 million litres of spirit each year, Caol Ila distillery allows visitors to see large scale whisky production at its best.
Kilchoman Distillery | /kiːlˈtʃoʊmən/keel-CHOH-mən | St. Comman's church | Founded 2005
Kilchoman is one of the smallest distilleries in Scotland. Based on a farm on the rugged west coast of Islay, Kilchoman was the first distillery to be built on the island for 125 years.
Lagavulin Distillery | /ˌlɑːkəˈvuːlɪn/LAH-kə-VOO-lin | the hollow where the mill is | 1742
Lagavulin single malt Scotch whisky has been made in a picturesque huddle of buildings on Lagavulin Bay. Perhaps the most beautifully situated of distilleries, Lagavulin makes arguably the most intense, smoky and rich whisky of all.
Laphroaig Distillery | /ləˈfrɔɪɡ/ lə-FROYG | beautiful hollow by the broad bay | Founded 1815
Laphroaig has produced a distinctive malt whisky in part due to the use of Bourbon barrels which does not smooth the taste like the more traditional sherry casks do.